Spotlight on Data
Tree Canopy Change, Washington DC, 2006 - 2011 Change in the District of Columbia's tree canopy estimated from 2011 leaf-on imagery and 2006 leaf-on imagery in conjunction with 2008 leaf-off LiDAR. This layer consists of three classes of tree canopy: 1) no change, 2) loss, and 3) gain.
2012 Lacaster County, Pennsylvania Imagery Now Available.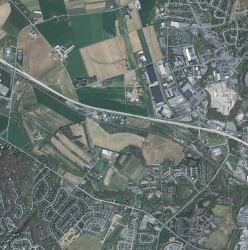 Lancaster County (PA) 2012 imagery is now available via the Pennsylvania GIS Data Clearinghouse, PASDA. The imagery is True Color (RGB) Orthoimages State Plane flown in 2012.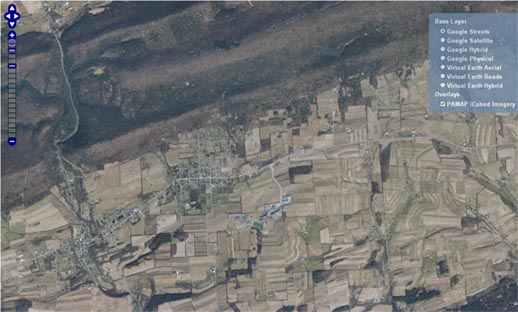 Pennsylvania PAMAP Program Data Released
New data from the Pennsylvania Department of Conservation and Natural Resources PAMAP program was released in September 2011. This data covers a large section of the state including the area in which Marcellus shale is currently being extracted. The imagery collection was acquired between December 11, 2009 and April 10, 2010 at a 1.5 foot resolution. The imagery service covers Bradford, Centre, Clinton, Lycoming, Sullivan, Susquehanna, and Wyoming counties as well as counties in Western PA.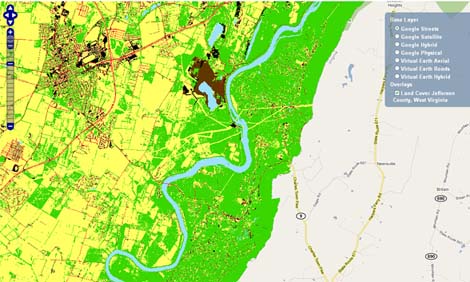 University of Vermont Spatial Analysis Lab Data on Chesapeake Bay Counties
The University of Vermont Spatial Analysis Lab created this 2007 Land Cover data set for Jefferson County West Virginia. High resolution land cover dataset for Jefferson County, WV. Seven land cover classes were mapped: (1) tree canopy, (2) grass/shrub, (3) bare earth, (4) water, (5) buildings, (6) roads, and (7) other paved surfaces.
The primary sources used to derive this land cover layer were the 2007 color infrared National Agricultural Imagery Program (NAIP) orthophotos and the 2005 LiDAR surface models. Ancillary data sources included GIS data road center lines, driveway centerlines, building polygons, and hydrology polygons provided by the Jefferson County Commission.
This dataset was developed as part of the Urban Tree Canopy (UTC) Assessment for Jefferson County. As such, it represents a "top down" mapping perspective in which tree canopy over hanging other features is assigned to the tree canopy class. At the time of its creation this dataset represents the most detailed and accurate land cover dataset for the area.