Data Access via ChesapeakeView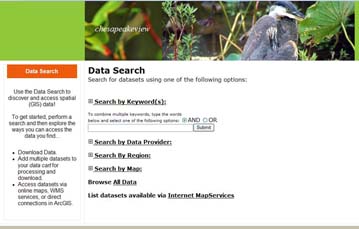 ChesapeakeView was developed to provide integrated access to remotely sensed data throughout the region. The data may be located at our partner View sites or at other locations such as the USGS Chesapeake Bay Office or the National Biological Information Infrastructure (NBII). The data can be searched and accessed via the ChesapeakeView site in the ChesapeakeView Data Search section of the site.
Check out our SPOTLIGHT on DATA feature of the month.
Searching ChesapeakeView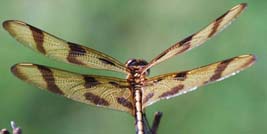 The ChesapeakeView team has developed a search and retrieval interface for accessing remotely sensed data related to the Chesapeake Bay region. Users can search by keyword, data provider, region, map based search, and for data available through applications and Internet Map Services. Many of the data sets can be downloaded directly from the source or pulled in to your GIS software via map services. Some data is available for viewing in Google Earth and in a Data Preview Option. Check out the icons at the top of the ChesapeakeView Data Search page to see what is available.