About ChesapeakeView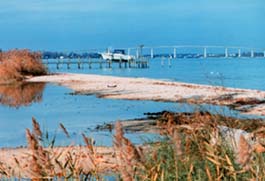 Chesapeake View is a collaborative project of the AmericaView program. AmericaView (AV) is a nationwide program that focuses on satellite remote sensing data and technologies in support of applied research, K-16 education, workforce development, and technology transfer.
Want to participate in ChesapeakeView?
ChesapeakeView is looking actively for data partners within the Chesapeake Bay region. If you have data you would like to share via ChesapeakeView, please feel free to contact us to discuss your needs and interests.
You can reach us via
email
.
Participating in CheseapeakeView
There are several ways to participate in ChesapeakeView:
A. Share your data through the ChesapeakeView site.
Sharing data through ChesapeakeView is easy! Just follow these steps:
Step 1: Contact us via e-mail or by phone 814-863-0104
Step 2: We will discuss with you the data you wish to share and if/how often you might be updating this data.
Step 3: We will also review any metadata you have for compliance and work with you to update or complete existing metadata.
Step 4: Send a CD, DVD, or FTP your data and metadata to us.
Step 5: We will place your data and metadata on the ChesapeakeView site, and integrate it into our search and retrieval utilities and create a map service of your data if applicable.
Step 6: We will notify you when your data is made available to the public.
Step 7: YOU are now a data provider! Thank You!
By sharing your data through CheseapeakeView you are providing an important service to your community, data stakeholders, and the Bay region. Data sharing reduces redundancy, saves crucial time and money for all.
CheseapeakeView provides free storage for data and metadata for anyone wishing to share their data.

B. Promote your existing locally hosted data through our search and retrieval interface.
If you would like to provide access to your data, but wish to store your data locally, CheseapeakeView will be happy to include a link to your data in our search interface.
ChesapeakeView is the first regional AmericaView initiative. The purpose of the ChesapeakeView project is to facilitate access to remotely sensed and other data related to the Chesapeake Bay region. This effort seeks to highlight the data resources of the AmericaView partners in the Chesapeake Bay region including Maryland, New York, Pennsylvania, Virginia, and West Virginia as well as other data providers who have created data about the region.