ChesapeakeView News
Eyes on the Bay is a site that provides access to data and information about the Chesapeake Bay. On EOB you can find water quality alerts, monitoring stories and publications, lesson plans, and habitat assessments.
June 26, 2013-- Online tool will help restoration partners rebuild oyster reefs An online mapping tool is now available to help resource managers and restoration partners rebuild oyster reefs in the Chesapeake Bay. Released this month by the National Oceanic and Atmospheric Administration (NOAA), the Oyster Decision Support Tool displays a range of information relevant to oyster restoration, from historic reef boundaries and maps of the seafloor to the rate of oyster disease, death and spatfall on bars in Maryland waters.
Carbon Pollution Supersizes Crabs
April 7, 2013--It is the dawn of the super crab. Crabs are bulking up on carbon pollution that pours out of power plants, factories and vehicles and settles in the oceans, turning the tough crustaceans into even more fearsome predators. That presents a major problem for the Chesapeake Bay, where crabs eat oysters. In a life-isn't-fair twist, the same carbon that crabs absorb to grow bigger stymies the development of oysters. "Higher levels of carbon in the ocean are causing oysters to grow slower, and their predators — such as blue crabs — to grow faster," Justin Baker Ries, a marine geologist at the University of North Carolina's Aquarium Research Center, said in an recent interview.
Maryland's 2012 Chesapeake Bay Oyster Plantings Begin
May 4, 2012 -- The Oyster Recovery Partnership (ORP), with its coalition of partners, today announced the start of their 2012 Chesapeake Bay oyster planting season and the first plantings aimed at fulfilling the goals of President Obama's Executive Order to restore oyster habitat and populations in 20 Bay tributaries by 2025.
A new report by the Chesapeake Bay Foundation says upgrading stormwater and sewage plant infrastructure could add almost 240,000 jobs in the Chesapeake Bay region over the next decade and a half. Released last week, the report, Debunking the "Job Killer" Myth; How Pollution Limits Encourage Jobs in the Chesapeake Bay Region, studied the effect of environmental regulations on the economy and jobs. The Chesapeake Bay Foundation found that during economic downturns, in particular, protections to limit Chesapeake Bay pollution "will stimulate job growth while cleaning the water, restoring fish and shell fish …."
USGS Webinars on SPARROW
The USGS recently released a decision support system that provides access to six newly-developed regional models that describe how rivers receive and transport nutrients from natural and human sources to nutrient sensitive waters, such as those along the Atlantic Coast, Gulf of Mexico, and Pacific Northwest Coast. For a schedule of USGS webinars on the regional SPARROW water-quality models and decision support system, go to: http://water.usgs.gov/nawqa/sparrow/mrb/SPARROW-WEBINARS.pdf
CONGRESSIONAL BRIEFING – New Science and Online Management Tool To Help Guide Action on Excessive Nutrients in Rivers and Estuaries
The Water Environment Federation (WEF) and the Northeast-Midwest (NE-MW) Institute held a briefing on October 28, 2001, on the new U.S. Geological Survey (USGS) science and an online, interactive decision support system for informing nutrient management decisions. The decision support system provides access to six newly-developed regional models that describe how rivers receive and transport nutrients from natural and human sources to nutrient sensitive waters, such as those along the Atlantic Coast, Gulf of Mexico, and Pacific Northwest Coast. Excessive nutrients in the nation's rivers, streams and coastal areas are a major issue for water managers because they can cause algal blooms that increase costs to treat drinking water, limit recreational activities, threaten valuable commercial and recreational fisheries, and can be toxic to humans and wildlife. The USGS presentation described how the online decision support system can be used to prioritize areas for nutrient reduction actions, identify which sources contribute the largest amounts of nutrients to downstream waters, and evaluate combinations of nutrient reduction scenarios. Experts from Minnesota and Tennessee will describe how monitoring and modeling information is being incorporated into state nutrient planning efforts.
The briefing speakers included:
Alan Vicory, Executive Director, Ohio River Valley Water Sanitation Commission, Moderator
Steve Preston, Regional SPARROW Modeling Coordinator, USGS
Wayne Anderson, Minnesota Pollution Control Agency
Saya Qualls, Tennessee Department of Environment and Conservation Water Pollution Control
Chesapeake Bay States Meeting Clean Up Goals
The Richmond Times-Dispatch reported in July on a meeting of Bay states. According to figures released Monday, that stepped-up effort is working. Bay states are generally meeting interim cleanup goals set in 2009. "The bay partnership is strong, and our path toward restoring the vital treasure of the Chesapeake Bay is on track," said Environmental Protection Agency Administrator Lisa P. Jackson. Read More...

Interested in what progress is being made in the Chesapeake Bay? The Chesapeake Bay Program partners developed an open and transparent way to assess and show progress towards goals. In order to do so, they created ChesapeakeStat.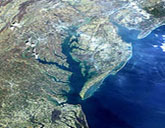 Baltimore Sun Article on Blue Water Baltimore--The organization aims to clean Baltimore harbor & streams. Blue Water Baltimore unveils plan to repave alleys, reduce pollution. Blue Water Baltimore's purpose is to use community based restoration, education, and advocacy to achieve clean water in Baltimore's rivers, streams, and harbor, so that citizens of the Baltimore region will enjoy a vibrant natural environment, livable neighborhoods, and a healthy, thriving Inner Harbor and Chesapeake Bay.

EPA Calls for Public Input on Draft Chesapeake Bay Pollution Budget
The U.S. Environmental Protection Agency Friday released a draft Total Maximum Daily Load for the Chesapeake Bay - a mandatory pollution budget designed to restore the nation's largest estuary and its network of streams, creeks and rivers over the next 15 years. Read More...
ChesapeakeView Presentation
The ChesapeakeView team presented at the AmericaView meeting in Washington DC on March 2, 2010. This was the first formal presentation of the project to a larger audience. The purpose of the presentation was to familiarize other AmericaView members with the project and to gather input into further development. Click here to view the presentation.